New Online Student Diary
Instructions for Parents
The College has this year introduced an online assessment and homework diary for students, Schoolpoint. This can be found at sacredheart.schoolpoint.co.nz This replaces the printed diary used previously.
The new online diary allows your son to:
View due dates for assessments, assignments, tests, and exams for his subjects
View homework as assigned by teachers
Enter their own homework, notes, and reminders
View school events as previously printed in the diary such as Formal Uniform days
Parents also have access to view the diary. Your login details are the same as the Parent Portal, with your son's student ID as the username. If you have more than one son currently at the College, please login to each son's account separately, using their student ID and corresponding password.
Once logged in, navigate to "Daily Planner" on the left hand navigation. This is your son's diary.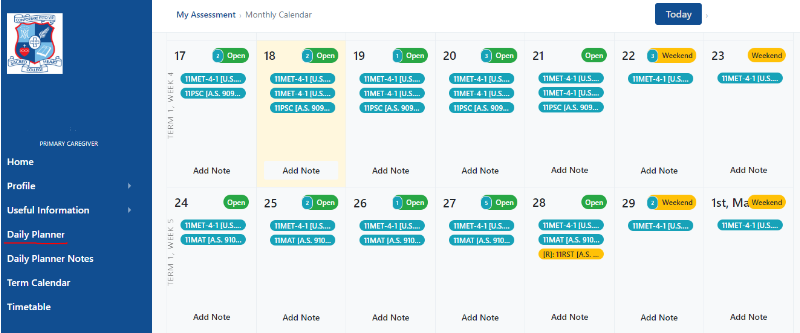 Items shown in blue are assessments, assignments, and/or homework as set by teachers. These are entered against a class or student, this will be shown as the first characters of the message. For senior students working on NCEA subjects, a unit standard or assessment standard may also be shown. e.g 11MAT [A.S. 91026]
Items shown in yellow are reminders, [R] is displayed at the beginning.
Items shown in grey are notes your son has directly entered into their own diary. If an [R] is displayed at the beginning, this is a Reminder they have also created.
Next to the date you will see Open/Closed or Weekend showing the days school is open. Also shown in a blue circle is the number of events for a particular day, as per the School Event Calendar, such as Formal Uniform days.
Click on a day to display more information.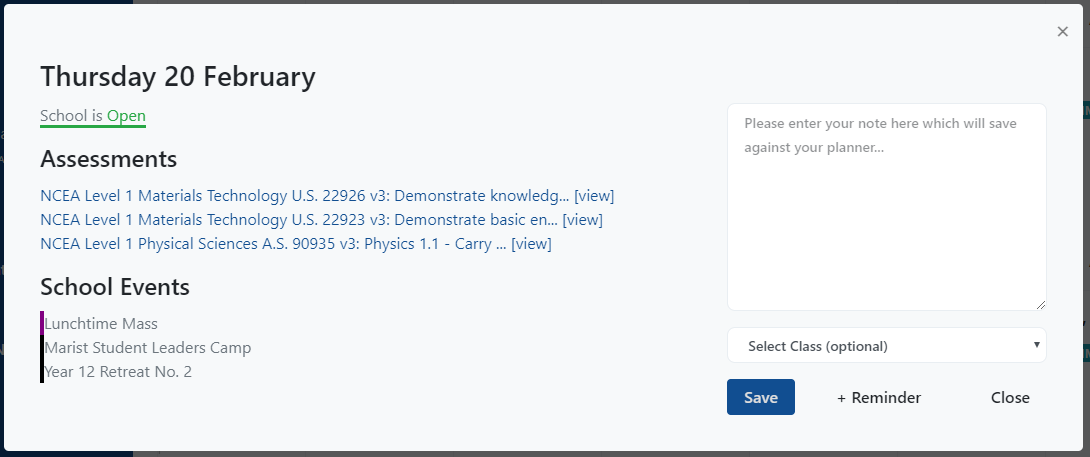 Click on each Assessment to show more details on the right hand side.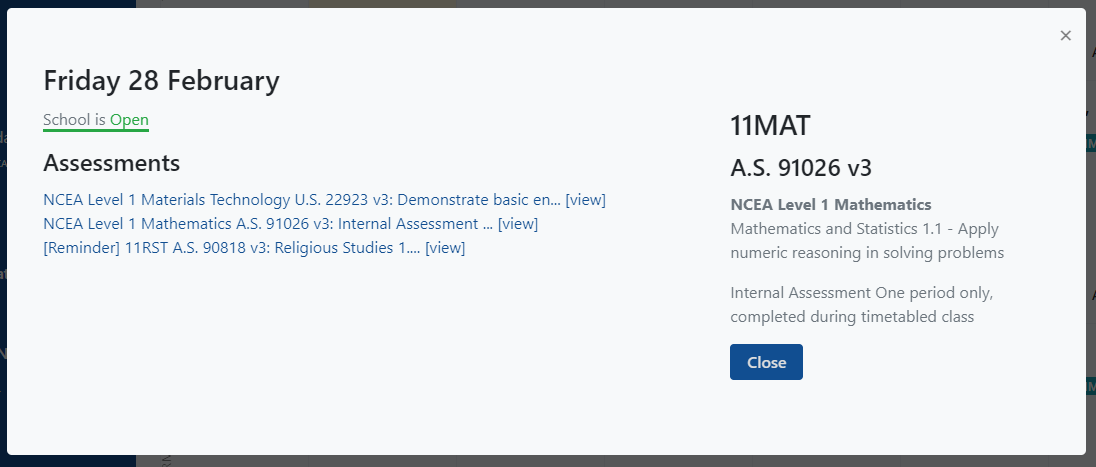 You can also view the "Term Calendar" from the left hand navigation. This shows you the same assessments as a term view.
We hope that you find this a useful tool to gain visibility of your son's school work and all events at the College. This will also be accessible via an App however this is still in the final stages of testing. We will notify you once this is available.
If you have any issues accessing your son's diary, please contact Louise Sinnaduray on [email protected] or Ph 09 529 3660, ext 899